A Night at The Castle 2
A page devoted to an LP that was recorded live in the Castle Pub in 1975. The LP was made available by Angela Wilson. I have digitised it and cleaned it of scratches as far as possible.
The LP is made available in individual tracks below. Press the play button at the side of each track ti listen to it. Press pause to stop each track or let them run their course. For the first track of side 1 I have created a video to accompany the song.
Also if you click on the picture of the artist a larger version of that picture opens up in a new window so that you can read the text.
Each track may take a moment or so to start.
Enjoy this fine slice of 1970s Kersal life.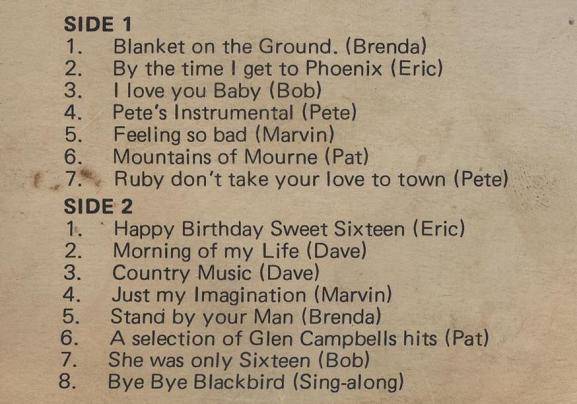 Side 1
Side 2
Brenda McGowan - Blanket On The Ground

Eric Abbott - Happy Birthday Sweet Sixteen
Eric Abbott - By The Time I Get To Phoenix

Dave Robin - Morning Of My Life
Bob Morrall - I Love You Baby
Dave Robin - Country Music
Pete Cowap - Pete's Instrumental
Marvin Simbs - Just My Imagination

Marvin Simbs - Feeling So Bad
Brenda McGowan - Stand By Your Man

Pat O'Brien - Mountains Of Mourne
Pat O'Brien - A Selection Of Glen Campbell's Hits

Pete Cowap - Don't Take Your Love Into Town
Bob - Morrall - She Was Only Sixteen
Castle Pub Crowd - Bye Bye Blackbird
And finally a mention for the regular backing group who played at the Castle in 1975. Again click on the picture and a larger version will open allowing you to read the text.