Vinegar Vera - Local Legend
We had the chip shop on Oaklands Road for 2 yrs around 85/86 and Vinegar Vera used to come in. She lived up to her nick name alright!! She used to order fresh battered fish and ask for loads of vinegar, and I mean loads!! People behind her in the queue would stare in horror as she would tell me to just keep going when I poured the vinegar on! She was also a bit of a scary character, you wouldn't want to upset her put it that way! A bit aggressive to say the least, must have had something to do with all that vinegar!! Julie Munro
I was sure she had died! There once was a rumour going around the flats that Vera had died. Anyway they had a collection for her only for her to turn up days later very much alive! Irene Gegrory
Just a footnote – it is Vinegar Vera (Vera Done) there was a rumour a few years ago that she had passed away but she is still very much alive and would probably still kill anyone that got it wrong!!! Joyce Copeland
Yes I remember Vera very well! A small plump woman with bleached blonde short hair. Most people were scared to death of this woman including me. I remember her moving next door to a couple that I used to baby sit for (Ann and Mike). She once asked me to put a light bulb in her living room, so I stood on a chair and just connected the bulb in the socket when she switched the light on. Well I screamed, dropped the bulb (that smashed everywhere), and jumped off the chair and flew out of that flat and into Ann' s as fast as my little legs could go! Vera was well known by the police and staying next door to her was an eye opener let me tell you. Most every night Vera and her boyfriend kicked off both full of drink and most nights she called the police on that boyfriend of hers.She would talk to anybody at the bus stop. If she would collared you and that was it. She once caught me outside the Castle where I was trying to attract my dad's attention in the vault. Vera asked me to go in and get her a couple of bottles of cider because she had been barred. Off course I couldn't because I was under age but she just wouldn't take no for an answer. She was getting more and more aggressive with me the more she asked. To cut a long story short my dad at last caught sight of me and came out and rescued me from that mad woman. I suppose they called her Vinegar Vera because her language was choice and every second word was f this or f that! Irene Gegrory
Remember Vinegar Vera? As far as I know she is living in Little Hulton and has been know to go in the Spa Pub on the Captain Fold estate. Harry Davies
I remember Vinegar Vera coming to our house when I was 16yrs old. She followed me home the day after my dad passed away and was crying in our house like she was my dad's best friend, my dad f***ing hated the fat bag! Nichola Washington
I remember Vineger Vera! One time in the Castle pub, myself and Claire Coffey sat at the back of the pub getting p****d. when Vera walked in threw a dead rabbit at me and told me to mind it becouse she was doing rabbit stew the next day! How sick is that? ha ha!!! Maureen Pavitt
I noticed that good old Vera seems quite popular,bless her but for the wrong reasons. :Who doesn't know Vera? But ,how many people know her at all? Having on the odd occation been looked after by VERA I saw a very different side to her. Don't get me wrong she deserved every rumour that has ever been spread about her,but she also had a soft side to her. The people around her made it so that she had to live up to her reputation which she did in the only way you would expect from a proper Salfordian.To me if it wasn't for the likes of Vera and Mike(R.I.P) a lot of people's memories would be less exciting. Russell Jones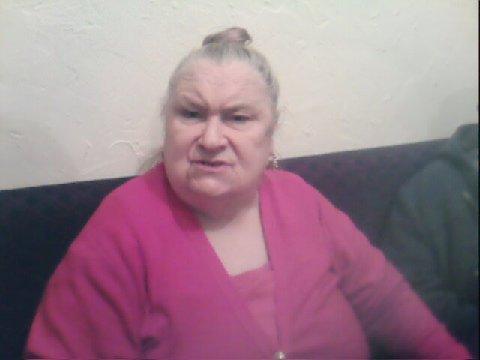 A picture of Vinegar Vera taken in April 2008.
From the Local Legends Website
She is a legend...started out down salford Docks offering favours too sailors in the boozers ...but in true Salford fashion entice them round the back where two gorrillas would knock them out and rob them for every penny...GAWD BLESS HER My memory of her was when these bogeys tried to arrest/question some bloke in a pub once (cant remember if it was the Grove on Bury new or the Ship)as i was only a wee Bairn and was sat in the corner with a packet of crisp and a coke and told to be quiet while my Dad got nuts faced before going to the match(could of been one of fifty pubs then) anyway these too Police turns up poor bastards were only young she had her hands down ones trolleys and offering too suck the other off while a pub full of proper hard blokes joined in the humiliation...I recall they had too leave empty handed but appt came back with reinforcements and arrested her aswell as him...believe it turned nasty, she could fight as hard as she could f**k apparently. Class.
submitted by salford exile



In 1975/6 I worked as a porter/clerk in the casualty department of Salford Royal Hospital(now, alas, gentrified and turned into apartments). Vera was a regular in the department. She'd either taken an overdose (allegedly) or was simply drunk. She had this weedy guy for a boyfriend who she'd regularly kick nuts out of. Her medical records were about six inches thick because of the number of times she'd been in the department. We had a special drawer where we kept all the records for the 'regulars' as we called them. Good old Vera had pride of place. She also used to drink in The Lima Arms on Peru Street, sometimes. Wonder if she's still alive?
Submitted by Dangerous Dave
Vinegar Vera's boyfriend was Mike McGuire from the Height Salford.I know this because I used to drink with his brother Steve (aka Satch).Are they both still alive.I remember him bumming 25p from me for a pint in the Pack Horse on the Height and I told him that people thought he was daft.He replied,"I cant be that f*****g daft because I just conned 25p from you!!!".
She was often in court, all cases revolving around drink. She was once charged with GBH on the ever suffering Mike McGuire and in court she proclaimed that Mike "always becomes obstrocolous when he's had too much to drink". My mother used to quote those words to me when I came home from The Red Cow on Albion Street
I recently heard that Vera's long suffering boyfriend (Mike McGuire) has 'popped his clogs'. He died at the end of 2007, don't know any more do you ?? Submitted by Mickey Bee
Mick Maguire died a few weeks back and Vera is still going strong. Submitted by Steve Ferrer
Oh by the way I had the `enjoyable experience of living on the same tower block for a while as `Vinegar Vera` and her boyfriend as I recall wasn`t called Bernard but was in fact a timid skinny Irishman called Mick who I heard once in an argument with Vera had his pushbike thrown over the verandah from the third floor which was then closely followed by Mick the poor bastard!!!!!!! Once i got in the lift in the block and Vera came in puffing and blowing and telling me to `hold the lift` This was one of the most disturbing moments of my then young life! What to do? press the button and hope the door shuts before she can get in or press the `h`old door` button? Anyway my mind froze like a rabbit in a cars headlights and i held the button/door open for her to enter. `Good job you held the door` said Vera, `Or i would have f**kin killed you, you twat!` God bless her, salt of the earth (fortunately!) submitted by Twonky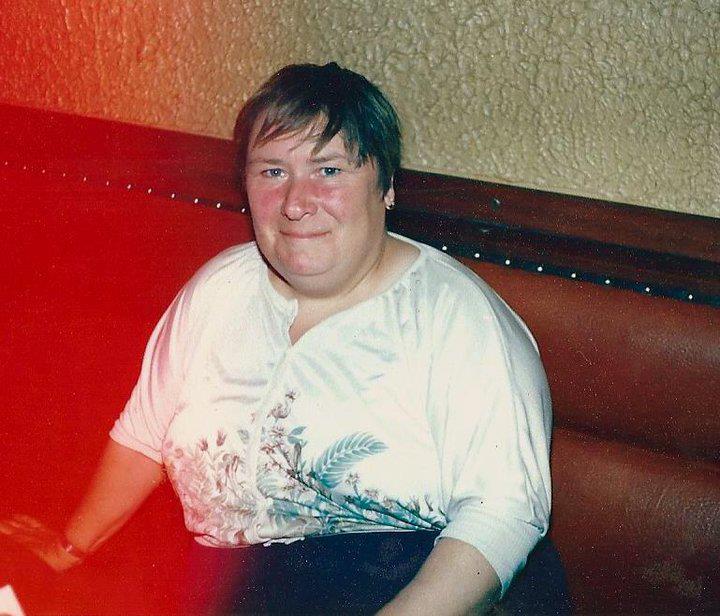 Vinegar Vera in 1983