I remember watching the bridge being built and getting caught by my dad paddling in the river. Nichola Washington
I remember the bridge being built. When was that 74 or 75 or so? I remember the material they stored ready for building. This included strange concrete cubes (but with one side open). There were lots of them, and piles and piles of large stones. I assume they were both used for foundations. We used them both to play war and throw large stones at each other. I recall the first night that the bridge was opened. A big event. We were not allowed to walk across it because we were too young. Others went over to "sticky bob" island. That was the little strange forest on its own on the race course which had sticky bobs growing there. Shane Sullivan
When they were building this bridge we would jump off the scaffolding and jump into the Irwell. Thomas Harrison
I fell off this bridge whilst making a swing! Ian Whiteley
I don't think that I had a childhood friend who didn't get hurt falling off this! Shane Sullivan
 I fell in there as a kid and I remember George Thompson pulling me out! He saved my life that day. I couldn't see a thing the water was so dirty. John Pavitt
I got drunk underneath this bridge nearly every Friday night!!! with half the other teenagers in kersal!!! I know a few who fell in! Natalie Jarrett.
Me too Natalie!!I remember spin the bottle every Friday night? *CRINGE*. Also I remember when my dog Srappy fell in near this bridge and I was crying so Natalie tried to get him out and fell in! LOL!!! My hero!! Michelle Belle
You always thought that you were going fall walking over this bridge as it was far too steep but fun in winter. You could see the riverbed from the top and all the durex fish swimming by. Simon Egan
We all used to wag it from school and sit under this bridge, and I remember coming down it on my roller boots (the old 4 wheel ones) a bit too fast and hit these bollards at the bottom head first! haha! Michelle Belle
I would stand on the top/middle and say "it's moving, it's moving - it's not safe" - maybe that was just me! We used to sit under it. It was a bit like a den! I bet it was covered in rats pee and all kinds but we didn't mind because it kept you out of the rain! Jacqueline Harrison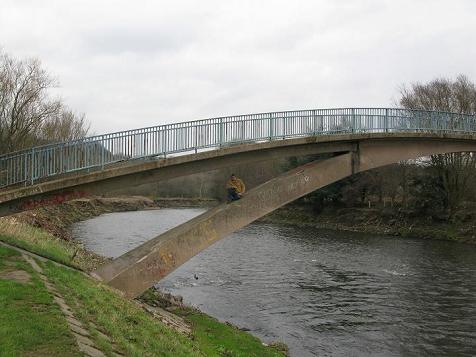 I can tell you from experience that sitting under it is not as east as it once was. I used to scamper up the supports and sit underneath the bridge. I found out in February 2008 that this is tougher as you get older! Shane Sullivan
I've not tried it recently but might give it a go for a laugh! Bet my back gives up and I end up stranded for days! Jacqueline Harrison.
Many a bottle of cider and a stolen B&H were taken in that spot! Myles Toole